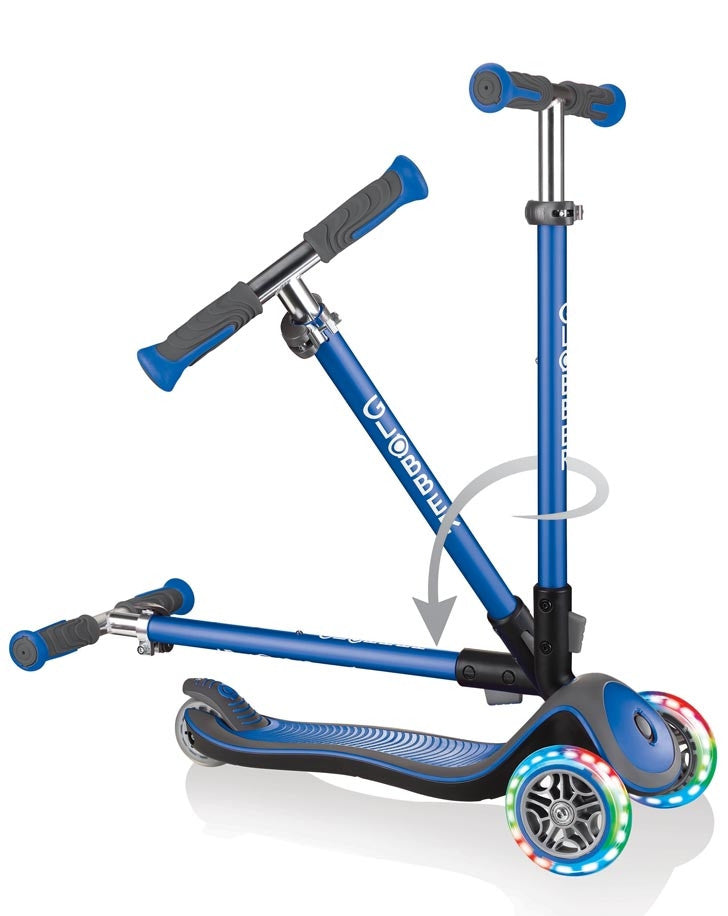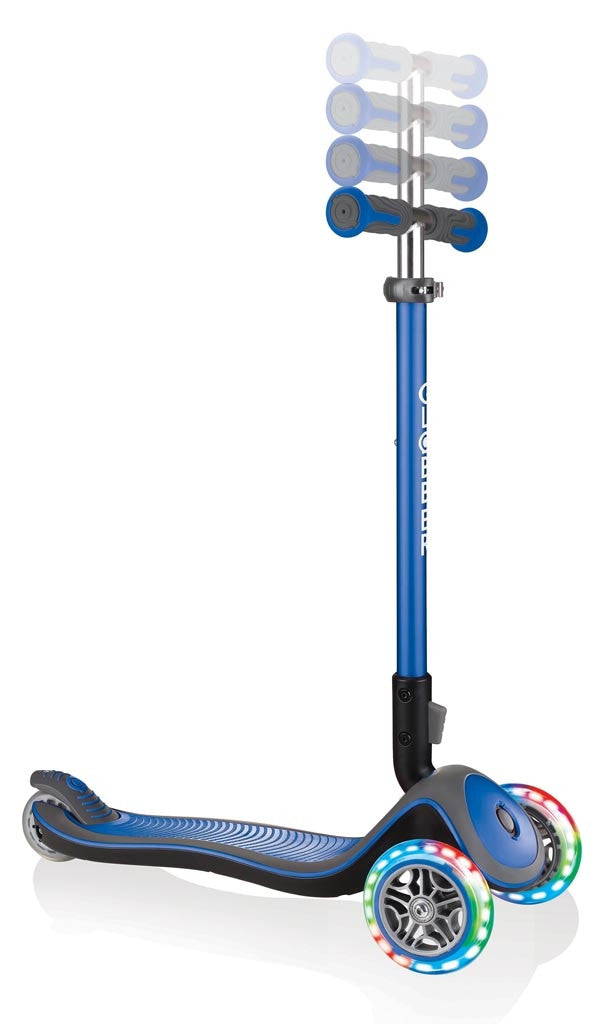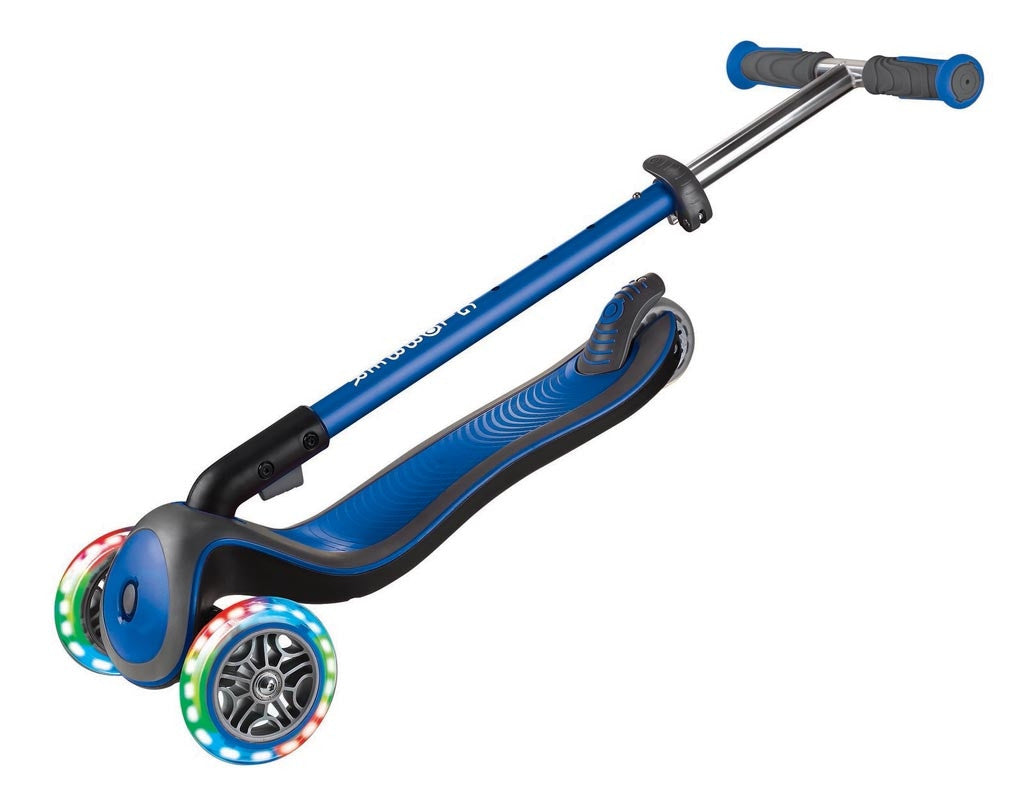 Globber Elite Deluxe Lights - 3 Wheel LED Fold Up Scooter - Navy Blue
With it's award winning design, the Elite Deluxe Scooter is the first three wheel foldable scooter on the market! With a click of a button, the scooter's handlebars can be folded, spun 180° and locked into its compact position. The scooter can then be easily carried or pulled along. The deluxe version comes with a blue anodized aluminium front bar. The front wheels have in-built LEDs which light up as you move, without the need for batteries. Designed in France, the Globber 3 Wheel Elite Deluxe is everything you want in a child's first scooter. Designed for maximum stability and safety, the Elite Deluxe will help your child learn how to ride and develop confidence on a scooter while providing hours of fun and exercise! Features include a foot board low to the ground for stability and steering lock to help with balance in the initial stages of learning. The Elite Deluxe also has comfortable handlebar grips, power assisted steering and a long covered rear brake for efficient braking. The T-Bar handle can be adjusted to 4 height positions as your child grows.
SURPRISE GIFTS & PACKAGING: For environmental reasons, single scooters are often sent in their sturdy original retail boxes which features the name and pictures of the product, and are not double boxed or wrapped. For multiple scooters, we often reuse the original carton boxes which features the scooter's brand logo. For surprise gifts, we recommend having it shipped to an alternate address whenever possible such as your work, family member's or friendly neighbour's place or PO Box / Parcel Locker. If no alternate address is available, please let us know that it's a surprise gift in the checkout comments and we'll wrap the item in plain brown paper and/or cover any scooter pictures and logos. Thank you for helping us minimise ecommerce packaging waste.
Specifications
Max weight 50kg
Age: 3+
Colour: Navy Blue
Weight: 2.7kg
Full Feature List
Lights: Built in LEDs in the front wheels flash colourful lights as you move, without the need for batteries.
Revolutionary folding system: With a click of a button, the handlebars can be spun down into a compact, folded position for easy transport and storage.
Steering Lock: Steering lock button on front of deck fixes the steering of the two front wheels to only move forward and backward. This allows children to easily learn how to balance on our scooter.
Height Adjustable: Height adjustable T-BAR handlebar can be adjusted to 4 height positions as the child grows (from 68.5cm to 83.5cm high).
Robust Deck: Wide deck to easily place both feet, deck is also super low deck for better stability. Composite deck in dual-colour with nylon reinforced body frame supports up to 50kg.
New Durable Handlebar Grips: Newly designed dual-colour grips are comfortable.
Safety First: Extra long and wide rear brake allows better braking performance while preserving wheel longevity.
High Quality Wheels: 2 x 121mm front wheels and 1 x 80mm rear wheel in transparent high quality high rebound polyurethane on ABEC 5 bearings.